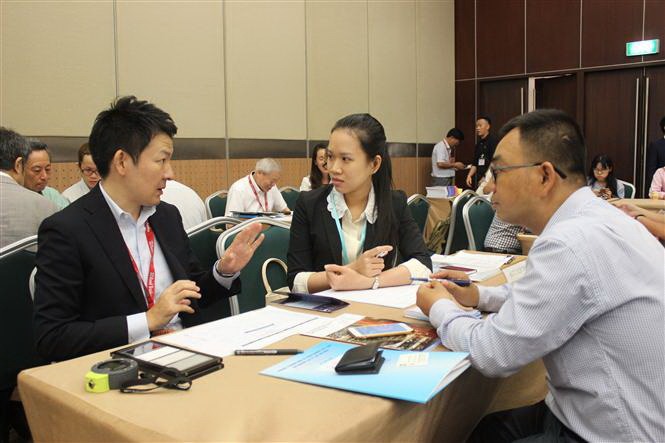 Vietnamese and Japanese enterprises exchange information at the Japan-Việt Nam business meeting held on the sidelines of Metalex Vietnam on October 11. – VNS Photo
Viet Nam News
HCM CITY — With its high economic growth, great market potential, and reasonably priced labour with improving skills, Việt Nam is an attractive market for Japanese investors, according to the Tokyo Small and Medium sized Enterprise Support Centre.
Speaking at the Japan-Việt Nam Business Matching held in HCM City on Thursday, Yoshiyuki Fukuda, president and CEO of the centre, said Việt Nam had been achieving one of the highest GDP growth rates among ASEAN countries.
"In contrast to Japan, the population in Việt Nam is increasing and there are many young workers in various industries, who are faithful and diligent.
"We believe Việt Nam is a promising market with immense potential for economic development by expanding exports.
"Looking at such positive economic activities in Việt Nam, many Tokyo SMEs with excellent technologies and products intend to develop products in collaboration with Vietnamese companies, sell their products in the growing Vietnamese market or penetrate the Vietnamese market [like the] Japanese companies have already done in the market."
According to Nguyễn Thế Hưng, deputy director of VCCI in HCM City, Japan is Việt Nam's leading economic partner, leading ODA partner, the second largest foreign investor, and the fourth largest trading partner.
Trade between the two countries has increased strongly in recent years to reach US$33.3 billion last year.
He pointed out the product structure of the two countries are complementary: Japan mainly imports seafood, textiles, leather and footwear, and processed foods from Việt Nam, and exports feedstock, equipment and machinery for production.
Last year Japan was Việt Nam's largest foreign direct investor with a record $9.11 billion. In the first nine months of 2018 Japan invested $7 billion, accounting for nearly 28 per cent of total foreign investment in the country.
Japanese firms have invested a cumulative $55.77 billion in 3,899 projects in Việt Nam.
According to Fukuda the 14 Tokyo companies participating in this event and exhibiting their products at Metalex Vietnam have a big market share in Japan or whose products or technologies have already been used widely in electronic devices, four-wheel and two-wheel vehicles, engines for transportation equipment and chemical plants, and so on.
"All the companies in this event hope to have a win-win relationship and long-term partnership with Vietnamese companies."
Hưng said the expansion of Japanese investment in Việt Nam would enable Vietnamese enterprises to learn, access and adopt modern techniques and technologies.
"This will help Vietnamese enterprises increase production and improve their performance, which will … allow them to participate in the global supply chain."
The event was organised by the VCCI in collaboration with the centre on the sidelines of Metalex Vietnam, which is being held at the Saigon Exhibition and Convention Centre in District 7 from October 11 to 13. – VNS
Nguồn: vietnamnews.vn